Congrats to CogSci Honors Student Melody Kim!
Student Design Challenge
Information For Life
Announcing this Year's Finalists
On behalf of the Gates Foundation, the Interaction14 Conference Committee, and our SDC Jury, we would like to congratulate the finalists for the 2014 IxDA Student Design Challenge:
Julie Blitzer & Hadar Geva, Domus Academy, Milan, Italy
Dharmesh Ba & Karan Dudeja, National Institute of Design, Gandhinagar, Gujarat, India
Kevin Gaunt, Umea Institute of Design, Umea, Sweden
Nidhi Jalwal, University of the Arts, Philadelphia, PA, USA
Melody Kim, UC San Diego, San Diego, CA, USA
These students have won trips to Amsterdam where they will compete over three days for prizes. Come meet them at the SDC Zoo at the conference.
This Year's Challenge

For as low as 10 cents per child, the child health record is a critical component of current health information systems worldwide.
This year, the Gates Foundation and the IxDA challenge you to consider how to reach remote populations by designing ways to improve how, where, and when this record is distributed, accessed and used in order to make it a more effective tool for health information and education throughout childhood.
Over six million children under the age of 5 died last year; more than half of these deaths could have been prevented with existing interventions. The global public health community could save millions of lives in the coming years by gaining the trust of families and informing them about how to access effective interventions. But, health organizations remain challenged by how to reach remote populations with life-saving health information when these children or their parents do not speak their country's national language or cannot read.
Download the full brief for more information from the Gates Foundation and IxDA on the theme background and design considerations for the Challenge.
Related initiatives

The Gates Foundation has chosen the Student Design Challenge to complement the foundation's Records for Life contest that launched in Fall 2013. The Records for Life contest focuses on the design of the record itself to make it easier to interpret and use. As a complement to Records for Life, the IxDA Student Design Challenge will put focus on the design of the experience: how families use the record as an informational tool that prompts choices and actions that lead to better healthcare for children.
Examples of these newly designed records will be available to SDC competitors in Amsterdam. See the Records for Life brief for more information.
About the Student Design Challenge
Now in its fifth year, the IxDA Student Design Challenge will run during the Interaction14 conference in Amsterdam, February 4-8, 2014. Finalists will be selected from an international pool of exceptional graduate and undergraduate students.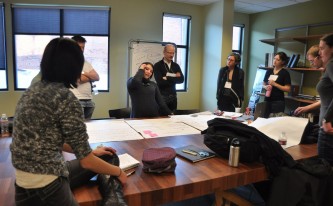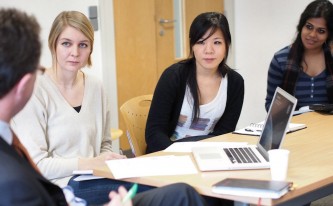 Finalists will be selected to demonstrate their skills in the 72-hour challenge in Amsterdam, kicking off with a master class with industry mentors on February 4.
Finalist reflect the diversity of interaction design education today and the excellence that is emerging from a new generation of designers.
The Challengers will have access to workspace provided at IJsfontein Interactive Media. For the first time this year, they will also have access to The SDC Zoo, a space in the main hall of the conference to engage conference-goers in discovery research and experience prototyping. Students will present their work onstage on February 7 and the winner will be announced at the 2014 Interaction Awards on February 8.
Prizes
Our panel of judges will award the most promising finalists a scholarship to attend Interaction14 in Amsterdam, including:
Travel to Amsterdam
Accommodation in Amsterdam
Complimentary student registration at the conference
Registration for a dynamic master class, held before the conference, to address these design challenges
Additional prizes will awarded on site